If GUI Editor works slow
From iRidium Mobile Wiki
If you use iRidium GUI Editor v.2.0 on the laptop with hybrid or outdated video card you can face the situation when GUI Editor stops showing its Workspace (pages and popups), hangs, works slower or shows memory errors.
These problems are connected with the fact that all Editor versions which where releases before used the OpenGL render system for showing Editor Workspace. Using of this system leads to considerate storage consumption and operation problems when working with hybrid video cards.
The problem can be easily solved. Start iRidium GUI Editor:
Go to Tools > Options > Showing 
Set up the property Render: DirectX (11) or (10)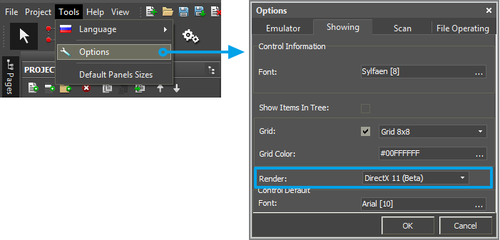 After that the problem with memory leak will be solved. GUI Editor will operate without hanging when continuous work with the project.
Requirements for switching to the DirectX render:
Consider that DirectX (10) and (11) is supported only by Windows 7/8. If you use Windows XP you can use the OpenGL render only. In this case it is recommended to change the PC, reinstall the OS or continue working with OpenGL but save the project more often.
The video adapter of your PC should support DirectX 10 by hardware. Otherwise you will not be able to use DirectX 10. In this case it is recommended to change the external video card or switch to the built-in video adapter if it supports DirectX 10 (in future iRidium versions it is planned to support DirectX 9 for outdated video adapters)
If the actions listed above did not help, 
update the driver of your video adapter from the manufacturer's web site 
and write iRidium mobile Support Team: support@iridiummobile.zendesk.com