Global Cache: Sensors
From iRidium Mobile Wiki
Global Cache (GC-100-06, GC-100-12, iTach IP2IR, iTach WF2IR) is a family of converters for controlling audio-video equipment. They have 3.5 mm slots. In the standard delivery set IR emitters can be connected to the slots for controlling equipment via IR. But you can also connect other Global Cache sensors of varios applications to the 3.5 mm slots. The sensors can send information about the current status of equipment to control panels.

Principles of Work with Global Cache Sensors:
select a Global Cache converter with 3.5mm IR/Sensor outputs
sensors are not included in the converter delivery set.

Types of Global Cache sensors:
GC-SV1 Video Out Sensor – it detects signals in the video adapter. Such sensors can be used for defining the state of the video equipment (on/off).
GC-SP1 AC/DC Voltage Sensor – it detects voltage of alternating or direct current on equipment contacts. Sensitivity is +\- 2В, maximum voltage on the contacts should not exceed +\- 24В. Such sensors can be used for defining the equipment power status (on/off).
GC-SC1 Contact Closure Sensor – it is used for receiving the state of a relay or dry contact (closed/opened).
Setting up Sensor Inputs of Global Cache
To receive data about the state of sensors change the setting of the 3,5 mm IR/Sensor Global Cache slot in the device web-interface to the Sensor Notify mode.
To receive access to the Global Cache web-interface:
indicate the local (private) address of the Global Cache converter (for example, //192.168.1.70) in the browser line. See "Quick Start Guides").
start the utility application iHelp. When GC will be found, open the web-interface by double-clicking on the converter.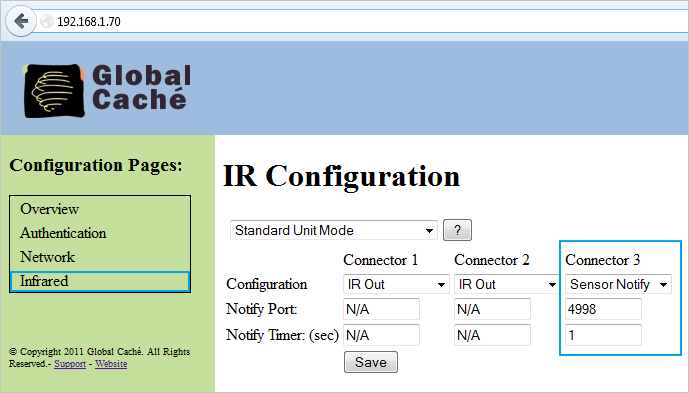 When the sensors are connected and set up, you can proceed with setting up connection between the sensors and iRidium.
Setting up iRidium for Receiving States of Sensors
Select the Global Cache driver in the DEVICE BASE list of iRidium GUI Editor and drag it into the PROJECT DEVICE PANEL window.
Sensors can be connected to the module with 3.5mm slots. By default, they are set up as IR Output. Change the type if output from IR Output to Sensor Notify: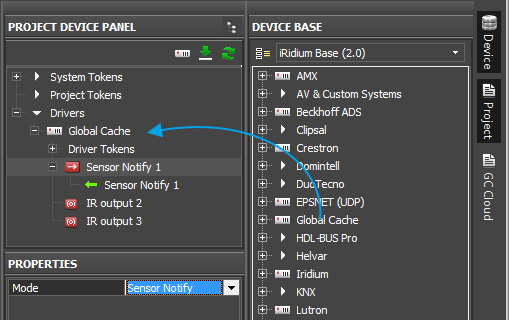 Global Cache sensors are discrete, i.е. they give values 1 or 0 (on/off). So the sensor status can be output as a text (1 – the contact is closed, the sensor was activated; 0 – the contact is opened) or by changing the state of the graphic item from inactive (0, State 1) to active (1, State 2). To make the status channel affect the state of the graphic item drag the channel to the item and indicate the property "In Value" (affect the item status):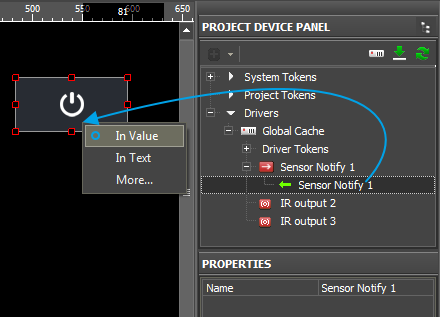 Now when closing the sensor the graphic item will change its state from 1 to 2.